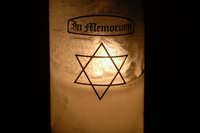 Virginia Burg
Virginia Ruth Burg, "Ginny", age 98, died peacefully on November 4, 2018, at the Daughters of Sarah Nursing Center, Albany, New York.
Daughter of the late S. Arthur and Malvina Goldstein Barr, she was born in Brooklyn, New York, and moved to Troy with her family in 1934, where she attended Emma Willard School, and was a graduate of Troy High School.
Ginny was the cherished wife of the late Sanford Burg, owner of Burg Pharmacy, in Schenectady, and the devoted companion of the late Leo Cohen of Albany. Both of her beloved brothers, Martin J. Barr of Albany, and Stanley L. Barr, of San Luis Obispo, California, predeceased her. Ginny was the adored mother of Barbara Burg, and daughter-in-law, Priscilla Golding, of Boston, and a loving aunt to her nieces and nephews.
Her family would like to extend their sincere appreciation to all the caregivers on the Gold Unit at Daughters of Sarah Nursing Center.
A graveside service will be held at the Congregation Gates of Heaven Cemetery in Schenectady, on Wednesday, November 7, 2018 at 1:00pm. The period of mourning will be observed in Massachusetts. Those wishing to remember Ginny may make a contribution to the Animal Rescue League of Boston, www.arlboston.org, or to a charity of your choice.