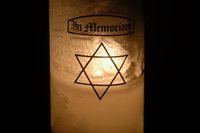 Malcolm Blumenthal
Albany – Malcolm Blumenthal, of the Massry Residence, passed away peacefully on February 10, 2018 at the age of 91 at St. Peter's Hospital surrounded by his loving family.
Malcolm was predeceased by his beloved wife of 63 years, Marcia, and his beloved daughter Debra (Paul) Crane.
Malcolm will be mourned by his daughter Linda (Stephen) Gellman of Clifton Park, Paul (Andrea) Crane of Point Lookout, Long Island, grandchildren, Brett (Rachel) Gellman, Adam Gellman, Danielle Crane (Jesse Sirotkin), Erica Crane (Jose Torradas), Emily Crane, and great grandchildren Asher and Mia Gellman.
Malcolm grew up in Brooklyn and was a U.S. Army veteran of World War II having served in Naples, Italy. Following his time in the service, he earned his Bachelor of Science degree from Long Island University and eventually became manager of a printing company in New York City. He met the love of his life, Marcia Fossaner and they were married on June 10, 1950. The couple resided in Woodside, Queens where they raised their two daughters. After retirement, they enjoyed winters in Orlando, Florida and always welcomed visits from their grandchildren.
One of his greatest joys was spending time with his family especially during holidays. He enjoyed life, was always an optimist, and enjoyed learning about different cultures. Fortunately Malcolm and Marcia had the opportunity to travel all over the world. They both enjoyed music and attended many Broadway shows. Malcolm enjoyed having lively discussions about politics and current events. He was a lifelong fan of the NY Giants.
Malcolm was passionate about Judaism, Jewish history, and traditions. He was president of the Sunnyside Chapter of B'nai B'rith, advisor for AZA, president of the Queens Borough Region of BBYO, and a member of the Jewish War Veterans.
The family would like to extend their appreciation to The Massry Residence, Community Hospice of Albany County, and The Hospice Inn at St. Peter's Hospital for their compassion and respect.
Funeral services will be held at 12 p.m. on Wednesday, February 14th, at Parkside Memorial Chapel in Rego Park, Queens. The period of mourning will be observed on Thursday, February 15th, from 3 to 8 p.m. and Friday, February 16th, from 12 p.m. to 4 p.m., at the home of Linda and Stephen Gellman, 12 Briar Patch Court, Clifton Park. At 7 pm on Thursday, February 15th mourner's kaddish will be recited.
A memorial service will also be held in Malcolm's honor at The Massry Residence, 182 Washington Avenue Extension, Albany, on Monday, February 19th at 2 pm.
Donations in his honor may be made to Community Hospice of Albany County or to Congregation Beth Shalom in Clifton Park.