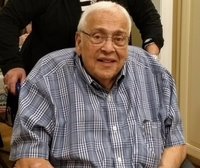 Stephen L. Stracher
Stephen Lester Stracher - Albany
Stephen Lester Stracher died peacefully on January 28, 2018 in Albany, NY at the age of 79.
Stephen is survived by his devoted wife of 48 years, Bette (Hausler) Stracher, his loving daughter, Hilary (Stracher) Teitel, his son in law, Jeffrey Teitel, his two beautiful grandchildren, Zachary and Chloe Teitel, his brother Larry Stracher and his wife Ellin and his brother in law Gerald Hausler and his wife Karen.
Born in Albany, NY on April 2, 1938 to Esther (Finklestein) and Herman Stracher, Stephen remained in Albany throughout his life. He graduated from Albany High School and continued his education at Russell Sage Junior College of Albany and Hartwick College in Oneonta, NY. He married the love of his life, Bette in 1969. Being an incredibly hard worker and wanting to provide the very best for his family, Stephen held many positions over the years. In his earlier years he worked at a radio station, Western Union, the New York State Department of Education and the New York State Department of Motor Vehicles. He then took a leap of faith and started his own business working as an investigator and process server. His business became his passion and he took the utmost pride in providing the best customer service and commitment to his clients. In 1976, Stephen and Bette welcomed their daughter Hilary, the light of their life.
Stephen had a passion for automobiles, fishing, the Boston Celtics and the New York Yankees. He was a dedicated member to many organizations including Albany Hebrew Tailors Association, Knights of Pythias, Alpha Beta Gamma Fraternity and Young Mens Hebrew Association. He was a lifelong member of Congregation Beth Emeth.
Stephen's greatest joy was being a father and grandfather. He adored his grandchildren and lit up in their presence. Stephen touched many lives throughout his life and will be deeply missed.
Funeral services will be held at Levine Memorial Chapel, 649 Washington Avenue, Albany, NY 12206 on Sunday February 4th at 1:00 pm, immediately followed by interment at Hebrew Tailors Cemetery in Guilderland, NY. Following the service, all are welcome to come back to Hilary & Jeffrey's home in Delmar, NY.
The family will sit Shiva at Hilary & Jeffrey's home in Delmar on Sunday, February 4th, Monday February 5th and Tuesday February 6th from 5:00 pm until 7:30 pm.
The family would like to thank our friends and family and all of Stephen's doctors, nurses, and other exceptional caregivers, especially his loving wife Bette who was his nurse, mentor and friend to the end.